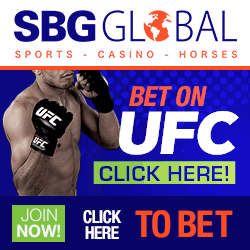 UFC 146 Dos Sanos vs Mir Odds, Favorites, Free Picks, Tips and Expert Predictions – UFC 146 Dos Sanos vs Mir Free Bets from UFC Vegas Handicapping Expert Eric Moore from the National Sports Advisors: Check out the UFC 146 Dos Sanos vs Mir Betting Tips, Vegas Odds, Free Bets and Handicapping preview from expert UFC handicapper/tipster Eric Moore below. If you are interested in betting on our UFC 146 Dos Sanos vs Mir Odds and Predictions and want betting lines, than simply skip to the latest UFC Betting odds from BOVADA.
UFC 146 Odds, Predictions and Free Picks
Heavyweight Bout
Roy "Big Country" Nelson vs. Dave Herman
Roy "Big Country" Nelson (16-7) is coming off of a Fight of the Night loss to Fabricio Werdum. After winning The Ultimate Fighter: Heavyweights he has struggled with consistency losing three of his last four fights. Even with his struggles Nelson is an always dangerous fighter. On his feet he has a devastating over hand right and on the ground he can be suffocating.
This will be only the third fight inside the octagon for Dave Herman (21-3). His first two he split, winning by TKO and then getting TKOed by Stefan Struve. His greatest strength lies in his standup where he isn't afraid to get creative with kicks and other techniques. While this puts him at risk of getting countered or taken down it can also put an opponent on their heels as they try to guess where strikes are coming from.
Lately Nelson (-225) has been facing some of the best heavyweights that the UFC has to offer. While no one who fights in the UFC is an easy win this will still feel like a substantial step down in competition for him. Herman (+175) has demonstrated that he can get up after being put on his back but he has never had a man with the size and control that Nelson has. Look for there to be a feeling out process on the feet and when Nelson gets tired of that he'll shoot for takedowns where he'll wear down and control Herman.
Prediction – Roy "Big Country" Nelson by way of TKO
UFC 146 Odds, Predictions and Free Picks
Heavyweight Bout
Cain Velasquez vs. Antonio "Bigfoot" Silva
Cain Velasquez (9-1) suffered the first and only loss of his career in his last bout against Junior Dos Santos losing his heavyweight belt in just 64 seconds. The only thing that fight proved about Velasquez is that anyone can get caught in an MMA fight. He still has a skill set that puts him right at the top of the heap in the heavyweight division. He has excellent hands and can grind anyone down in the clinch or on the mat.
Jumping right into the fire in his UFC debut is Antonio "Bigfoot" Silva (16-3). He made his name over in Strikeforce going 3-2 with the biggest win of his career coming against Fedor Emelianenko. Silva's greatest advantage in the cage is his sheer size standing 6'4" and usually weighing north of 280 pounds on fight night. He has serviceable standup but he does his best damage in top position raining down ground and pound.
The biggest challenge Silva (+310) will face in this bout is his lack of athleticism. He showed in his last fight he has problems with fighters who are quick on their feet with the ability to get into striking range before he can react. Worst of all for Silva is that Velasquez (-400) is all those things with the addition of a never ending gas tank. Coming off his first loss expect to see the best Velasquez yet as he out works and out paces Silva.
Prediction – Cain Velasquez by way of knockout
UFC 146 Odds, Predictions and Free Picks
Heavyweight Championship Bout
Junior "Cigano" Dos Santos (Champion) vs. Frank Mir (Challenger)
A three time Knockout of the Night winner Junior "Cigano" Dos Santos (14-1) probably has the fastest hands in the heavyweight division. Of his fourteen victories eleven didn't even make it out of the first round. Junior has a much underrated ground game that is only underrated because we never get to see it. He keeps fights standing by doing a lot of his work from the outside and having excellent takedown defense.
Frank Mir (16-5) keeps finding himself in opportunities to claim the heavyweight championship. He has gone 7-2 in his last nine fights with both losses coming in heavyweight title fights. He earned his way back to the top with a devastating submission victory over Antonio Nogueira and a little luck since Alistair Overeem failed a prefight drug test. Mir's standup is ever improving but his real strength lies in his jiu-jitsu which is one of the best at heavyweight.
While Mir (+350) has excellent jiu-jitsu his weakness is getting the fight to the mat where he can use it. His three most recent submission victories came right after he got dropped or he dropped his opponent. So if he wants to get this fight down he is going to have to catch Junior (-550) on the chin. This will prove difficult as he will be content to stay on the outside, feed Mir an unhealthy dose of jabs and attack when he feels Mir is staggered. Mir has also shown he doesn't have the greatest chin and Junior has made a career out of knocking people out.
Prediction – Junior "Cigano" Dos Santos by way of knockout

UFC Vegas Betting Odds from BOVADA Sportsbook
2 EASY STEPS to BET on UFC 146 Dos Santos vs Mir Odds and Free Tips!
STEP 1: CLICK HERE to OPEN BOVADA Account
STEP 2: Deposit with Credit Card, Check or any other method and get a 20% NO LIMIT BONUS with NO ROLLOVER FREE INSTANTLY!