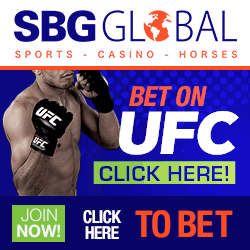 UFC on FOX 2 Evans vs Davis Odds, Favorites, Free Picks, Tips and Expert Predictions – UFC on FOX 2 Evans vs Davis Free Bets from UFC Vegas Handicapping Expert Eric Moore from the National Sports Advisors: Check out the UFC on FOX 2 Evans vs Davis Betting Tips, Vegas Odds, Free Bets and Handicapping preview from expert UFC handicapper/tipster Eric Moore below. If you are interested in betting on our UFC on FOX 2 Evans vs Davis Odds and Predictions and want betting lines, than simply skip to the latest UFC Betting odds from BOVADA.
UFC on FOX 2 Evans Odds, Predictions and Free Picks
Middleweight Bout
Damian Maia vs. Chris "The All-American" Weidman
Starting his career 11-0 Damian Maia (15-3) is one of the best submission artists at 185. He has finished eight fights via tap out and has earned submission of the night four times. As of late he has lost that killer instinct with his last six fights all going to decision and going 4-3 in his last seven trips inside the octagon.
Chris "The All-American" Weidman (7-0) is a perfect 3-0 in his appearances in the octagon finishing his most recent opponent by d'arce choke. His fighting background is wrestling where he was a two time Division I All-American. While he has shown marked improvement in his standup he is most comfortable grappling and getting his opponents to the ground.
When two fighters with high level ground games meet in the cage it's usually who can win the battle on the feet that takes the bout. Maia (+120) has shown improved standup but that isn't saying much since it has looked very bad in the past. He has shown higher levels of aggression on the feet but he still has a long way to go with his technique. What Weidman (-150) has going for him is he is still relatively new to the sport and gets better every time he steps into the cage. Expect to see the best Weidman yet as he beats Maia to the punch and is able to control his jiu-jitsu with his position control.
Prediction – Chris "The All-American" Weidman by way of unanimous decision
UFC on FOX 2 Evans Odds, Predictions and Free Picks
Middleweight Bout
Chael Sonnen vs. Michael "The Count" Bisping
Chael Sonnen (26-11-1) spent over a year away from the UFC before his return in October of 2011. In his return fight be submitted Brian Stann by arm triangle choke in the second round. Sonnen may be the best wrestler at 185 with an uncanny ability to control his opponents on the ground while keeping busy enough to keep the fight there.
Michael "The Count" Bisping (22-3) has only been stopped once in his career getting viciously knocked out by Dan Henderson. He likes to use a stick and move strategy. He uses his hand speed to pepper in a few shots and slip out of the pocket before his opponent has an opportunity to land. He has also shown good wrestling as he is usually able to get fighters to the mat and land ground and pound.
Bisping's (+360) success in this fight will be determined by whether or not he can stay on his feet. Even though he has serviceable wrestling he has never faced anyone on the level of Sonnen (-450). Cardio wont' be a problem for Bisping as he always comes into fights with excellent conditioning. The problem he will face is Sonnen's constant pressure and relentless pursuit of takedowns. Sonnen is notoriously weak against submissions but Bisping hasn't shown aptitude towards the sub never having pulled one off in the UFC. Once Sonnen scores a takedown expect to see the fight stay there while he rains down punches and elbows.
Prediction – Chael Sonnen by way of TKO
UFC on FOX 2 Evans Odds, Predictions and Free Picks
Light Heavyweight Bout
"Suga" Rashad Evans vs. Phil "Mr. Wonderful" Davis
"Suga" Rashad Evans (21-1-1) was the season 2 The Ultimate Fighter winner at heavyweight and is a former UFC Light Heavyweight champion. Evans uses his speed as his greatest ally moving in and out and exploding into takedowns. He earned the opportunity to fight for the title again after beating Quinton Jackson in May of 2010 but was sidelined due to an untimely injury. After a year layoff he made an impressive return with a second round TKO victory over Tito Ortiz.

Phil "Mr. Wonderful" Davis (9-0) made his MMA debut in 2008 and after only four victories made his way into the UFC. He has shot up the UFC light heavyweight ladder with victories over Brian Stann and Antonio Rogerio Nogueira. While he has serviceable standup he more uses it to close the distance and work his clinch game. When he does get the fight to the ground he's not content to just keep it there and will work to improve position and finish the fight.
Both of these fighters have an excellent base in wrestling even though Evans (-165) has always been a relatively small light heavyweight. They are going to have problems taking each other down so whoever can take control of the standup will be able to control the fight. While Davis (+135) has shown good standup he lacks the speed and one punch knockout power of Evans. Evans will control the pace of the fight and score takedowns late when he has worn down Davis.
Prediction – "Suga" Rashad Evans by way of unanimous decision

UFC-MMA Betting Odds from BOVADA Sportsbook
2 EASY STEPS to BET on UFC on FOX 2 Evans vs Davis Odds and Free Tips!
STEP 1: CLICK HERE to OPEN BOVADA Account
STEP 2: Deposit with Credit Card, Check or any other method and get a 20% NO LIMIT BONUS with NO ROLLOVER FREE INSTANTLY!