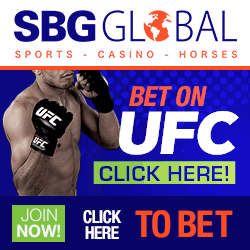 UFC 148 Silva vs Sonnen Odds, Favorites, Free Picks, Tips and Expert Predictions – UFC 148 Silva vs Sonnen Free Bets from UFC Vegas Handicapping Expert Eric Moore from the National Sports Advisors: Check out the UFC 148 Silva vs Sonnen Betting Tips, Vegas Odds, Free Bets and Handicapping preview from expert UFC handicapper/tipster Eric Moore below. If you are interested in betting on our UFC 148 Silva vs Sonnen Odds and Predictions and want betting lines, than simply skip to the latest UFC Betting odds from BOVADA.
UFC 148 Odds, Predictions and Free Picks
Middleweight Bout
Cung Le vs Patrick "The Predator" Cote
Former Strikeforce Middleweight Champ Cung Le (7-2) will be making his second appearance inside the UFC. His last trip earned him Fight on the Night honors in a loss to Wanderlei Silva. He looked fluid in the first but Silva caught him with a flurry of punches and knees in the second that stopped him at the 4:49 mark. Le brings a unique blend of striking to the cage utilizing unorthodox kicks to keep his opponents off balance and has won all 7 of his bouts by KO or TKO.
Patrick "The Predator" Cote (17-7) is riding a four fight win streak coming into this bout. Before that he hit a rough patch after losing to Anderson Silva in a middleweight championship bout. He dropped three in a row before moving on to lesser promotions to work his way back up. This will be his first fight back with the UFC since October of 2010. Cote is comfortable with staying on the outside landing punches and using the clinch against the cage when his opponents get to close.
On paper this looks like a stand up dream. Traditionally both these fighters like to stand and trade punches looking for the knockout. But with this being Cote's (-230) first fight back after a long time away from the UFC look for him to be more conservative and not play Le's game. Le (+180) has always been much more comfortable on the outside throwing wild kicks. Look for Cote to press Le up against the cage and turn this fight ugly landing tight punches and working for takedowns.
Prediction – Patrick "The Predator" Cote by way of unanimous decision
Light Heavyweight Bout
Forrest Griffin vs "The Huntington Beach Bad Boy" Tito Ortiz
Forrest Griffin (18-7) has struggled with consistency as of late. After winning the light heavyweight belt he has since gone 2-3 and was knocked out in just 1:53 by Mauricio Rua in his most recent bout. Forrest is serviceable in every area of MMA but what makes him dangerous is he's scrappy and he is always moving forward. At his peak when he won the belt he utilized a mix of punches, leg kicks and takedowns to the point where Quinton Jackson never got comfortable.
"The Huntington Beach Bad Boy" Tito Ortiz (16-10-1) was at one point in his career the most feared light heavyweight in the world. Now at the tail end of his career he has one win since 2006. Tito's bread and butter has always been his wrestling but as the years have gone by he has lost that dominating part of his game. He showed he can still be dangerous in his fight with Ryan Bader finishing him by guillotine choke.
This will be the third time these fighters have faced off in the octagon. They have split wins and both have been by split decision. Ortiz (+240) will enter this fight with the added emotion that this will be the last time he fights having already announced he plans to retire after the bout. He has always fought emotional but he will have to keep it in check so he doesn't gas out early. Look for Griffin (-320) to stay on the outside and let this fight wade into deep waters. He won't be afraid to throw leg kicks as Tito's aging wrestling won't be enough to keep him on his back.
Prediction – Forrest Griffin by way of unanimous decision
Middleweight Championship Bout
Anderson "The Spider" Silva (Champion) vs Chael Sonnen (Challenger)
Anderson "The Spider" Silva (31-4) is one of the best pound-for-pound fighters in all of MMA. He has won 15 fights in a row with 10 of those fighting for or defending the middleweight title. He is the most accurate and dangerous fighter standing up being able to end a fight at any moment. Only two of his fights in the UFC have gone to decision finishing nine by knockout and two by submission.
Chael Sonnen (27-11-1) has been the only man to come close to ending Silva's reign over the middleweight division. After controlling the first four rounds Silva was able to catch him in a triangle choke mid way through the fifth. Sonnen's biggest asset is his wrestling as he is able to out muscle anyone at 185 pounds. To earn his rematch he defeated Michael Bisping in underwhelming fashion with a unanimous decision.
The only question anyone has ever had about Silva (-300) is his motivation. During some of his bouts he has looked bored and unwilling to take risks to finish the fight. Motivation will not be a problem in this fight. Sonnen (+220) has done everything he can to try to gain a psychological advantage over Silva. Anderson was taken by surprise the last time they met; he won't make the same mistake twice. Expect Sonnen to eat his words as Silva comes out determined to knock him out.
Prediction – Anderson "The Spider" Silva by way of knock out

UFC Vegas Betting Odds from BOVADA Sportsbook
2 EASY STEPS to BET on UFC 148 Silva vs Sonnen Odds and Free Tips!
STEP 1: CLICK HERE to OPEN BOVADA Account
STEP 2: Deposit with Credit Card, Check or any other method and get a 20% NO LIMIT BONUS with NO ROLLOVER FREE INSTANTLY!