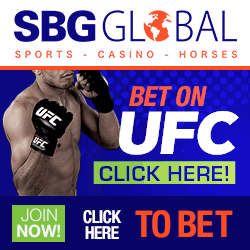 UFC 144 Edgar vs Henderson Odds, Favorites, Free Picks, Tips and Expert Predictions – UFC 144 Edgar vs Henderson Free Bets from UFC Vegas Handicapping Expert Eric Moore from the National Sports Advisors: Check out the UFC 144 Edgar vs Henderson Betting Tips, Vegas Odds, Free Bets and Handicapping preview from expert UFC handicapper/tipster Eric Moore below. If you are interested in betting on our UFC 143 Diaz vs Condit Odds and Predictions and want betting lines, than simply skip to the latest UFC Betting odds from BOVADA.
UFC 144 Odds, Predictions and Free Picks
Heavyweight Bout
Mark "Super Samoan" Hunt vs. Cheick Kongo
Mark "Super Samoan" Hunt (7-7) hit a rough patch after starting 5-1. He went on to lose his next six bouts getting finished by submissions five times and knocked out once. Hunt is best known for his go for broke standup brawling style and almost always takes a tremendous amount of punishment in his fights. It's his iron chin and always exciting fights that got him to the UFC where he has gone 2-1, winner of his last two.
Consistency has been an issue for Cheick Kongo (17-6-2) never having won more than four fights in a row. Since getting choked out by Frank Mir he has gone 3-0-1 with the draw coming against Travis Browne, Kongo had a point deducted for grabbing his shorts. In his fight with Pat Barry he showed composer and the ability to come back from bad spots. Kongo was badly hurt but was able to keep it together just long enough to land a huge punch that knocked Barry out cold.
While neither of these fighters are top tier heavyweights this fight is going to be lights out. Both of them will be head hunting from the start and it's only a matter of time before someone connects. Hunt (NA) will do what he always does; wade through punches to get in tight enough to land his own. The difference maker in this bout is Kongo's (NA) wrestling. While he'll be content to stand and trade early look for him to eventually take the fight to the mat where Hunt is weakest. When it goes down Kongo will unleash vicious ground and pound.
Prediction – Cheick Kongo by way of TKO
UFC 144 Odds, Predictions and Free Picks
Light Heavyweight Bout
Quinton "Rampage" Jackson vs. Ryan "Darth" Bader
Quinton "Rampage" Jackson (32-9) hasn't been coming off a worse loss since "Shogun" Rua blitzed him at the Pride 2005 Grand Prix. The current 205 pound king Jon Jones picked him apart for the better part of four rounds before securing a rear naked choke to end the fight. Even though he was unable to hang with the champ he is still a threat in the 205 pound division. Rampage has knockout power in both hands and is a handful to take down even for the best wrestlers.
Ryan "Darth" Bader (13-2) shocked the world in the wrong way when he got choked out by Tito Ortiz in July of last year. He started out 12-0 getting handed his first loss against now champ Jon Jones. Bader was able to rebound after the Tito loss knocking out Jason Brilz in just 1:17. Bader was on the fast track to a title shot before getting derailed and that's exactly where he is working to get to again.
Both these fighters have similar styles; they like to turn fights into boxing matches but have the ability to wrestle if they need to. Bader (+190) is more likely to use his wrestling offensively so expect a few shots from him. Taking down Jackson (-240) will prove difficult because they are so evenly matched strength wise. Jackson will keep this fight standing and eventually land a punch that hobbles Bader that will give him the opening he needs.
Prediction – Quinton "Rampage" Jackson by way of TKO
UFC 144 Odds, Predictions and Free Picks
Lightweight Championship Bout
Frankie "The Answer" Edgar (Champion) vs. Benson "Smooth" Henderson (Challenger)
Frankie "The Answer" Edgar's (14-1-1) only loss came back in 2008 to Gray Maynard, a loss he avenged by knocking him out in their last matchup in October. He is a fighter that loves to use angles and quick hands to do damage before his opponent has time to counter. He is also excellent in sprawls where he will take advantage of small opening to better his position. With crisp boxing and an endless gas tank he pushes his opponents to their breaking points and capitalizes when they are tired.
Benson "Smooth" Henderson (15-2) has come back strong after taking a loss in his last WEC appearance. He has won all three of his fights under the UFC banner and has knocked off two number one contenders to get his shot at the belt. Most impressive was his destruction of Jim Miler. Miller was on a seven fight win streak and was widely considered the number one contender before getting smashed by Henderson. He is well versed in striking and grappling and is nearly impossible to submit.
This looks to be a war fought at a relentless pace. Edgar (-130) is always in peak physical condition come fight night and always looks to wear opponents down with his stamina. He is going to need to use all that speed and conditioning to get past Henderson (EV). Henderson uses all facets of MMA to beat down and frustrate his opponents. On top of that he has one of the most dangerous guillotines in the sport that he can slap on in an instant. This will be a back and forth war but when it's all over the lightweight belt will have a new owner.
Prediction – Benson "Smooth" Henderson by way of unanimous decision

UFC-MMA Betting Odds from BOVADA Sportsbook
2 EASY STEPS to BET on UFC 144 Edgar vs Henderson Odds and Free Tips!
STEP 1: CLICK HERE to OPEN BOVADA Account
STEP 2: Deposit with Credit Card, Check or any other method and get a 20% NO LIMIT BONUS with NO ROLLOVER FREE INSTANTLY!