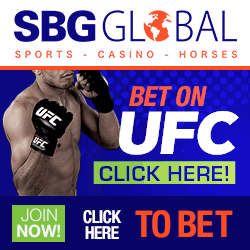 UFC 143 Diaz vs Condit Odds, Favorites, Free Picks, Tips and Expert Predictions – UFC 143 Diaz vs Condit Free Bets from UFC Vegas Handicapping Expert Eric Moore from the National Sports Advisors: Check out the UFC 1143 Diaz vs Condit Betting Tips, Vegas Odds, Free Bets and Handicapping preview from expert UFC handicapper/tipster Eric Moore below. If you are interested in betting on our UFC 143 Diaz vs Condit Odds and Predictions and want betting lines, than simply skip to the latest UFC Betting odds from BOVADA.
UFC 143 Odds, Predictions and Free Picks
Middleweight Bout
Ed "Short Fuse" Herman vs. Clifford Starks
After being on the shelf for over two years due to a knee injury Ed "Short Fuse" Herman (19-7) made an impressive 2011 return with two first round finishes. His first fight back he won in just 48 seconds in a TKO victory over Tim Credeur. Herman has decent standup but is most comfortable on the ground using strikes and threatening submissions.
Still new to MMA Clifford Starks (8-0) made his UFC debut in October of 2011 with a unanimous decision victory over Dustin Jacoby. He is a former Arizona State NCAA Division I wrestling team and uses that background heavily in the cage. Before his UFC debut he primarily fought in Rage in the Cage finishing four of his five fights.
Even though he was out for such a long period of time Herman (-300) made a statement in 2011 that he shouldn't be forgotten. He is crafty on the ground and has a knack for finishing his opponents. Starks (+220) will also be facing a man that has far more cage experience then he does. Bettors can look for Herman to close the distance quickly, do work in the clinch and ultimately take the fight to the ground where he can lock in a submission.
Prediction – Ed "Short Fuse" Herman by way of submission
UFC 143 Odds, Predictions and Free Picks
Bantamweight Bout
Renan "Barao" Pegado vs. Scott "Young Guns" Jorgensen
With his only loss coming in his MMA debut Renan "Barao" Pegado (27-1, 1NC) has fought 28 straight times without being handed a loss. What makes Barao so special is his varied attack and the ability to finish fights where ever they take place winning thirteen by submissions and six by (T)KO. His most recent bout was a rear-naked choke victory inside of the first round against Brad Pickett.
Scott "Young Guns" Jorgensen (13-4) biggest enemy has been consistency never having strung together more than five victories. He has bounced back after losing a five round battle with current bantamweight champion Dominick Cruz by winning his next two. His greatest asset is his wrestling that he uses to control position and beat up on his opponents.
Speaking in terms of ways to win a fight Barao (-240) has a huge advantage. He is far more dynamic on the feet and has a slick jiu-jitsu game. The advantage that Jorgensen (+190) will possess is raw power. He has one punch knockout power and strong enough wrestling to bully his opponents. Even though Jorgensen has the advantage in power Barao is going to be too explosive and varied in his attack to do much with it. Barao continues his rise up the bantamweight ladder bringing him even closer to a shot at Dominick Cruz.
Prediction – Renan "Barao" Pegado by way of TKO
UFC 143 Odds, Predictions and Free Picks
Welterweight Bout
Josh "Kos" Koscheck vs. Mike Pierce
An alumnus of the first season of The Ultimate Fighter Josh "Kos" Koscheck (16-5) has spent almost his entire career under the UFC banner. He came back in dramatic fashion after he got steam rolled by Georges St-Pierre to knockout Matt Hughes with one second remaining in the first round. When he first entered MMA Koscheck was a one trick pony with his wrestling. Since then he has evolved his standup and now possess one punch knockout power.
Mike Pierce (13-4) is 4-1 in his last five bouts and has never been finished in his MMA career. Pierce does his best damage within the clinch using dirty boxing and elbows. He has shown he is susceptible to top tier wrestlers dropping fights to Jon Fitch and Johny Hendricks. He'll need to clean up his takedown defense because it's guaranteed Koscheck will eventually want to take this fight to the mat.
Koscheck (-240) wants to keep the momentum rolling of his big victory over Matt Hughes. With the future of GSP uncertain this may be the best opportunity for him to work his way back up the ladder and possibly to UFC gold. Make no mistake though, Pierce is a tough and scrappy fighter that will give his opponents fits if you let him hang around. Koscheck comes out aggressive with a good game plan and takes another step towards a title shot.
Prediction – Josh Koscheck by way of unanimous decision
UFC 143 Odds, Predictions and Free Picks
Heavyweight Bout
Roy "Big Country" Nelson vs. Fabricio "Vai Cavalo" Werdum
Roy "Big Country" Nelson (16-6) ended his two fight skid with a knockout of Mirko Cro Cop back in October. Nelson is a heavyweight that could most likely make 205 without too much trouble because he carries most of his weight in his midsection versus muscle mass. He has shown one punch knockout power with his right hand and has a very strong wrestling game with an ability to hold positions.
Fabricio "Vai Cavalo" Werdum (14-5-1) is the man that ended Fedor Emelianenko's 28-fight unbeaten streak. With that being the high point of his career he followed it up with an uninspired, lackluster unanimous decision loss to Alistair Overeem. While he showed improved standup against Overeem he had no answer of how to get the fight to the ground where he is most dangerous. Of his fourteen wins eight have come by way of submission.
Even though Nelson (+115) has excellent wrestling he is going to want to keep this fight standing. Instead of using his wrestling to get the fight down he'll use it defend the takedown and do damage inside the clinch. Werdum (-145) needs to avoid the big right hand and frustrate Big Country in standup exchanges. As Nelson tires look for him to take advantage and get the fight to the ground where he will attempt multiple submissions.
Prediction – Fabricio "Vai Cavalo" Werdum by way of submission
UFC 143 Odds, Predictions and Free Picks
Interim Welterweight Championship Bout
Nick Diaz vs "Natural Born Killer" Carlos Condit
Former Strikeforce Welterweight Champion Nick Diaz (26-7, 1NC) will now have the opportunity to add the UFC strap to his resume. Currently riding an eleven fight win streak Diaz has one of the most unique styles in MMA. Punches in bunches doesn't even begin to describe the volume of strikes he throws. Only throwing punches at around 50% allows him to keep up his relentless pace mixing in body shots with blows to the head. He is just as dangerous on the mat being a black belt in jiu-jitsu under Cesar Gracie and has finished eight fights by submission.
"Natural Born Killer" Carlos Condit (27-5) held the WEC welterweight title for over a year before making the transition to the UFC. His first appearance in the octagon was his only loss in his last 13 fights. In this case the nickname truly does reflect the fighter with Condit going the distance only once in his 27 wins. Of the 26 that he finished he's split right down the middle with 13 (T)KO and 13 submissions. His last three fights have earned him two Knockouts of The Night and the other a Fight of the Night. To say Condit is aggressive and explosive is a monumental understatement.
This bout has the potential to be Fight of the Year. Both these fighters don't know the meaning of back down or 'let's tie up on the cage and take a quick breather'. This fight will be fought at a brutal pace from the first bell until someone is unconscious or tapping. Both of them are ridiculously well rounded and not afraid to eat a punch to land their own. The problem Condit (+160) will present for Diaz is that he is a better version of everyone he has recently faced. He won't fade like Penn and has a bigger bag of tricks than Daley. Even with all that Diaz (-200) will still be too much. The sheer number of strikes he lands and his uncanny ability to frustrate his opponents will eventually chip away at Condit. Diaz's iron chin will make sure he makes it into the deeper rounds where he will use his jiu-jitsu to become the interim champ.
Prediction – Nick Diaz by way of submission

UFC-MMA Betting Odds from BOVADA Sportsbook
2 EASY STEPS to BET on UFC 143 Diaz vs Condit Odds and Free Tips!
STEP 1: CLICK HERE to OPEN BOVADA Account
STEP 2: Deposit with Credit Card, Check or any other method and get a 20% NO LIMIT BONUS with NO ROLLOVER FREE INSTANTLY!